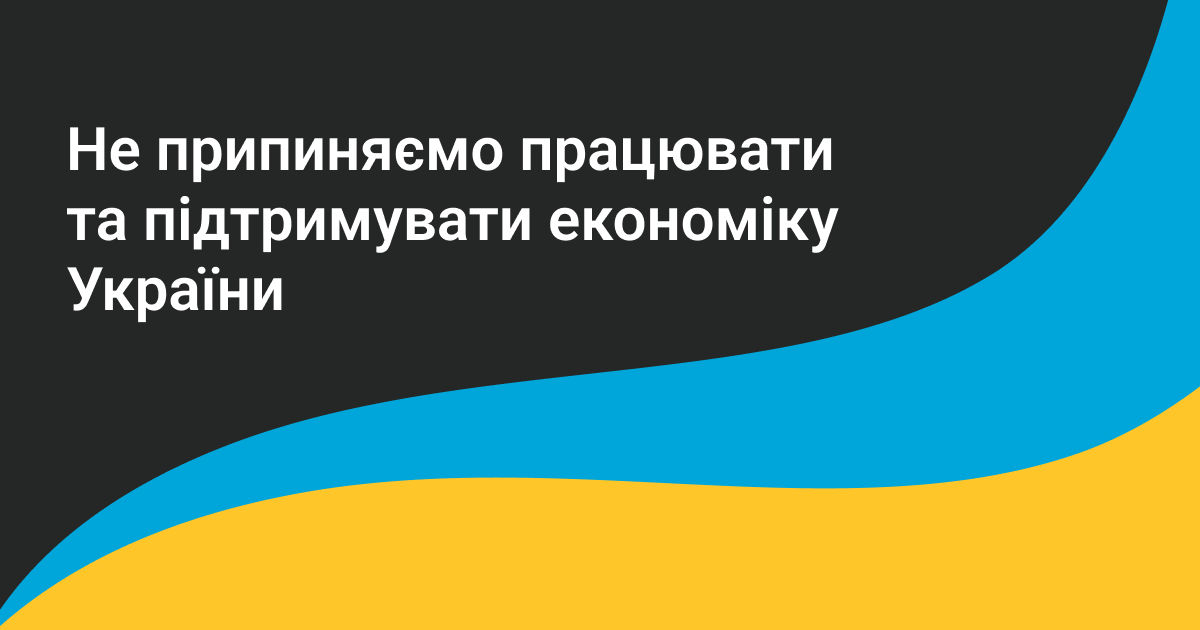 Битву виграє армія, війну виграє економіка
У час невизначеності долі нашої держави та кожного з нас особисто, ми всіма силами стараємося тримати на плаву українські бізнеси та розвивати проекти. Кожен долар від наших замовників – це можливість для наших спеціалістів отримувати оплату, сплачувати податки, утримувати родину, допомагати армії, переселенцям та тримати нашу економіку життєздатною.
Продовжувати оборот грошей, продовжувати продавати, купувати, працювати над проектами, старатися ЖИТИ навіть у війну, адже це робить нас з вами сильнішими. А ми зараз мусимо бути сильними, як ніколи.
Одна з небагатьох галузей в Україні, яка продовжує стабільно функціонувати і зміцнювати нашу економіку – галузь IT-технологій. Наші замовники підтримують нас у цій боротьбі за правду. Ми у свою чергу боремося і продовжуємо створювати якісні продукти, щоб виграти цю війну.
Сьогдні ми не разом, як зазвичай…
Хтось влаштовує затишне сховище в офісі, хтось бере у руки замість лептопу зварювальний апарат, хтось вправляється у бармен-майстерності. Сьогодні наші хлопці – солдати IT-армії, дівчата волонтерять, щоб нашим воїнам було тепло і смачно, всі разом ми інформуємо світ, бо він має знати правду!
Ми разом, ми сильні, ми переможимо!
Все буде Україна!
Agile Software Development and Quality Assurance


Real experience
With 13 years of experience in software development, we have taken part in a large number of projects as independent contractors, as a part of international teams and as a part of business departments on the customer's side. This has allowed us to gain experience in various business sectors, to test various development technologies and approaches, to master various schemes of cooperation (outsourcing, on-site development and near-shoring). Having experience in our own software products initiation has also made it possible to better understand the problems which hinder beginners on their way to success.

Agile requirements
Requirement changes while developing a product is a natural process. Frequent releases and an iterative approach in software development gives our clients a chance to receive fast feedback and easily, in a short time, change initial plans. The development process in the company is made to promote smooth modifications of a developed product at all stages of its implementation.

Synergetic effect
Working on projects, InterLink always acts as a partner and unites technical knowledge with customers' inspection to effectively solve problems. Our specialists investigate customers' subject field to better understand core problems and to provide accurate solutions which are required for creating projects. We often propose that our customers apply appropriate turnkey solutions.

Recognition by our clients
Our company's service level is held up by positive feedback received from our customers and by numerous invocations. InterLink has earned the confidence of both small enterprises and start-ups and world-famous international corporations. We are able to provide additional information and customer reviews on our services. It is our privilege to be a part of our customers' success.
Since the year 2000, InterLink has carried out a full cycle of software project development, starting with the problem analysis and finishing with the implementation of the developed solution. We have implemented hundreds of projects, and have even served companies in the Fortune 500 list. We successfully use stored knowledge and experience, apply modern approaches and develop complex and high-load software projects.
A few years ago, our company started to actively work on proprietary software products. Today, Tahometer, our project for tracking work time – has reached self-sufficiency and is used by thousands of companies around the world; the game Cargo Bridge became a favorite for millions of iPad and iPhone users. We will not stop here, and within a short time will release several more interesting products, which we hope will also be well-received by our users.
Working in partnership with our customers, we continue building software products which effectively solve problems. Our goal at InterLink is to develop effective software solutions; solutions with which your business will be supported.
Please see our recent products and services
We apply advanced approaches in software development
To ensure the delivery of consistent high-quality software, we build our processes upon Agile Manifesto principles. Here are the fundamental components: Continuous and effective communication with the customer, iterative development, frequent releases and fast feedback. We use Scrum at the core of our software development process. We continuously work on improving software development processes and bring in advanced approaches to our production processes management.

Iterative development
We divide our projects into a series of small iterations with a fixed length. According to the structure, each iteration looks like a project with its own planning phases, development, testing and acceptance. This approach provides an opportunity to receive fast feedback, to anticipate possible deviations in development and to assure set tasks fulfilling which allows our customers to correct priorities.

Focus on key functionality
First of all, we focus our attention on key functionality implementation and delivery. It allows the customer to check the viability of ideas before investing significant means in the project, gives a chance to receive timely feedback and to refine the direction of further development.

Project's Quick Launch
The opinion of real-life users is very important to a product's success. InterLink applies an iterative approach in software development which enables us to put projects on the market and quickly roll out updates within several weeks of a project beginning.

Consistent high quality
To ensure the quality of our projects, we use automated testing. This approach promotes fast and smooth introduction of necessary changes and allows for a quick check of program code execution. In addition, these tests are an excellent system source of information which simplifies the procedure of technical knowledge transfer.